Betty MacDonald fan club fans,
great Betty MacDonald fan club news.
You'll be able to read a new very interesting and witty letter by Betty MacDonald.
Betty MacDonald fan club newsletter April will be available soon.
Be a bit patient, please. We are working on it.
If you know the two persons in our photo send us a mail, please.
You can win very new Betty MacDonald fan club items.
Wolfgang Hampel's 'Vita Magica' was very successful.
You'll be able to read Wolfgang Hampel's very witty experiences at Pike Place Market and other new stories and poems in next Betty MacDonald fan club letters.
Wolfgang Hampel's new very well researched stories about Betty MacDonald, Monica Sone, Robert Eugene Heskett, Donald Chauncey MacDonald, Darsie Bard, Sydney Bard, Gammy, Alison Bard Burnett, Darsie Beck, Mary Bard Jensen, Clyde Reynolds Jensen, Sydney Cleveland Bard, Mary Alice Bard, Dorothea DeDe Goldsmith, Madge Baldwin, Don Woodfin, Mike Gordon, Ma and Pa Kettle, Nancy and Plum, Mrs. Piggle-Wiggle are golden Betty MacDonald fan club treasures.
We adore Wolfgang Hampel's great stories, interviews and his satirical poems.
Betty MacDonald fan club honor members Letizia Mancino and Mr. Tigerli had been honor guests at Vita Magica in 2015.
You can see them again in Vita Magica in 2016.
Mr. Tigerli on his new motorbike is really great.
Europe and the World needs unique Mr. Tigerli very much because of so many very difficult problems.
Let's have a new breakfast with Brad and Nick today.
You'll enjoy it very much.
We are going to visit Vashon Island.
We are looking for the Betty MacDonald fan club ESC winner 2016.
Dear Betty MacDonald fan club ESC fans, thank you so much for sending your votes.
If you are the first one who tells us when Jamie-Lee with Ghost got over 5 million views you'll be our honor guest at the Betty MacDonald fan club ESC 2016 event in Stockholm.
This is our current Betty MacDonald fan club ESC 2016 TOP 10 in alphabetical order:
Australia, France, Germany,

Italy

, Poland, Romania,

Russia

, Spain,

Sweden,

Ukraine
We are going to publish the next Betty MacDonald fan club ESC voting result very soon.
Take care,
Lars

Vita Magica
Betty MacDonald fan club
Betty MacDonald forum
Wolfgang Hampel - Wikipedia ( English )
Wolfgang Hampel - Wikipedia ( English ) - The Egg and I
Wolfgang Hampel - Wikipedia ( German )
Vashon Island - Wikipedia ( German )
Wolfgang Hampel - Monica Sone - Wikipedia ( English )
Wolfgang Hampel - Ma and Pa Kettle - Wikipedia ( English )
Wolfgang Hampel - Ma and Pa Kettle - Wikipedia ( French )
Wolfgang Hampel - Mrs. Piggle-Wiggle - Wikipedia ( English)
Wolfgang Hampel in Florida State University
Betty MacDonald fan club founder Wolfgang Hampel
Betty MacDonald fan club interviews on CD/DVD
Betty MacDonald fan club items
Betty MacDonald fan club items - comments
Betty MacDonald fan club - The Stove and I
Betty MacDonald fan club groups
Betty MacDonald fan club organizer Linde Lund
Rita Knobel Ulrich - Islam in Germany - a very interesting ZDF ( 2nd German Television ) documentary with English subtitles
Betty MacDonald Fan Club proudly presents:

The amazing, very witty, charming, intelligent story written by our brilliant Betty MacDonald Fan Club Honor Member - artist and writer Letizia Mancino.

WHEN YOU DREAM, DREAM BIG

Copyright 2011/2016 by Letizia Mancino
All rights reserved
Translated by D. Tsiaprakas

Betty, I love you! Your books "Anybody can do anything" and "Onions in the Stew" are really outstanding! I take them into my hand, and at a stone's throw I am right away in America ! Columbus and the egg: The great discovery!

Your bestseller "The Egg and I" the greatest discovery. And you and I! I know America: It's true what you are writing: That's America: Absolutely right! No, even to the least detail! The landscape and the passion: Do you know the country where pistols blossom? Brava, Betty, you are describing the Americans vividly, genuinely, insufferably, brushed upon paper. If I like to read your works? To read doesn't even express it! I can even hear and see everything: Nature, culture, subculture.

America has almost remained unchanged! O those cool Americans! Calculating, stockmarket, Wall Street, the financial crisis (even back in 1930), the gamblers, the bankruptcy of companies! The swarming of dodgers and cheaters. People left without money. Dispair und hunger! A terrible "Worst Case" (when I knew but little English I thought it is sausage with cheese).

Still how impressive is the ability to adaptone self of the Americans: They know how to enjoy life, acrobats of survival! In the twinkle of an eye they achieved to adapt themselves and effect the work of pioneers: In the morning you are a cleaningwoman, in the evening a brothel woman! No problem!

"The insufficient, here it's becoming an event; The indescribable, here it's done;" Mary Bard Jensen, your sister, was the treasure trove of procuring work: My word, what a power woman with unlimited imagination! She has recommended you everywhere: Betty can do everything, also write novels! Go ahead, sister, hurry up! The editor wants to see your manuscripts! Up to that point you had not written a single line! Wow! And if still everything goes wrong? No problem: When you dream, dream big!

Just look, you have become famous.The Egg and I You know that, Betty? I'll slip into "The Egg and I" and come and be your guest! I want to get to know your chickens. I hate chickens! I'm a chickens slave from North America! O Betty, without these damned animals, no chance of you becoming famous! "The Egg and I" you would never have written! How many readers you have made happy!

Your book is so amusing! Your witty fine (almost nasty) remarks about your family members and roundabout neighbours made me laugh so much! You have been born into a special family: Comfort was not desired: I can't but be amazed: What did your father say to your mother? After tomorrow I am going to work elsewhere: Thousands of miles away...He sent her a telegram: LEAVING FOR TWO YEARS ON THURSDAY FOR MEXICO CITY STOP GET READY IF YOU WANT TO COME ALONG – That was on Monday. Mother wired back: SHALL BE READY, and so she was.That's America! Improvisation, change, adventure. You show no weakness: Let's go! Your descriptions, Betty, about the tremendous happenings in nature have deeply frightened me.

Continent America, I'm terrified by you! I feel so small and threatened like a tiny fly before an enormous flyswatter! Your novel is very many-sided! The reader may use it even as a cook book! "The Egg and I" starts straight away with a recipe: "Next to the wisdom that lamb meat doesn't taste good unless it has been roasted with garlic". Do you enjoy the American food?

O Betty, it's too fatty for me and I hate garlic! (Betty is presently cooking lunch for Bob. She's continually talking to "STOVE": STOVE is Bob's rival; in the beginning I thought it was being himself). She turns round and says: Well, so no garlic for you. No lamb either, Betty. I don't eat any meat! I'd actually prefer only fried eggs. Betty, let me make them myself. Then you try it!

Blow! "STOVE" out of order! I don't succeed in turning it on! Damned! It's got more of a mind of its own than "STOVE" of my friend, Hilde Domin! Bob's coming! He must eat directly! "Men eat anything, the swines! Says your grandmother Gammy". Is it true? Do you like my chickens? Bob asked me without introducing himself. Yes, Bob (rude) I love them! I'm vegetarian. Do you want to clean the henhouse with me tomorrow? A, you're always getting up so early at four o'clock! Bob, that's not a job for me! He looked at me disdainfully! A Roman cissy! You need a reeducation at once! Help, Bob's attacking me! I rather change the novel immediately and move to the "Island"!
Nico Rosberg wins again in wild Chinese Grand Prix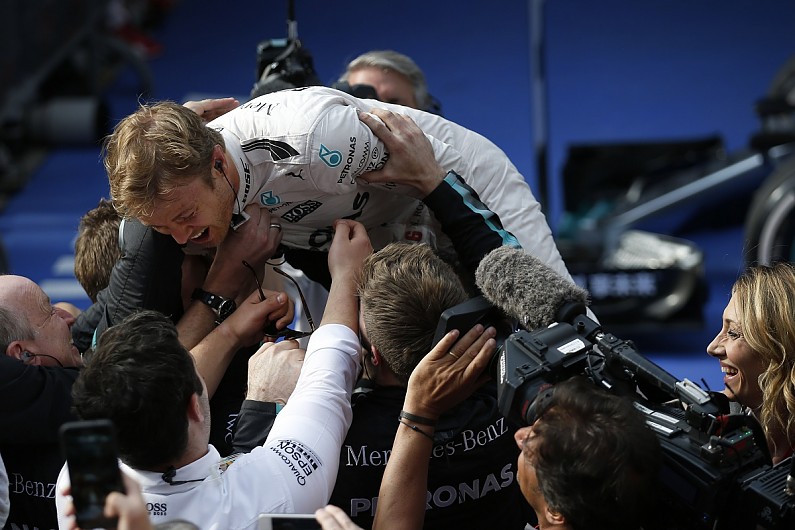 Nico Rosberg continued his perfect start to the 2016 Formula 1 season with his second Chinese Grand Prix victory to open up a 36-point cushion over Mercedes team-mate Lewis Hamilton.
For his third win of a so far dominant campaign, Rosberg finished 37.7 seconds ahead of Ferrari's Sebastian Vettel, with Daniil Kvyat on the podium in his Red Bull for the second time in his F1 career.
As for Hamilton, from the back of the grid after a MGU-H failure during the first qualifying session and subsequent power unit change overnight, the reigning champion could do no better than seventh.
But that's only half the story of what was a chaotic race.
Red Bull's Daniel Ricciardo took the lead into Turn 1 after beating polesitter Rosberg off the line from his own front-row position.
Behind the lead duo, Kimi Raikkonen locked up marginally at the first corner, forcing Ferrari team-mate Vettel to make a slightly evasive move.
But with Kvyat charging up the inside, Vettel manoeuvred his way back into his team-mate, sending the Finn off the track and into the pits for repairs.
Vettel fumed over the radio, describing Kvyat as "a madman" who had made a "suicidal" move and arguing with him after the race.
Hamilton had made up five places into Turn 1, but after running over a piece of Raikkonen's wing, the Briton was then hit by Felipe Nasr and ended up with his own front wing lodged under his Mercedes.
That caused damage to the bib and leading edge of the floor, resulting in a loss of downforce and hampering Hamilton's recovery.
Leader Ricciardo's hopes were blown on lap three when, powering down the back straight and with Rosberg in tow, he sustained a puncture to his left-rear tyre caused by debris on the track.
Shredded rubber on that part of the circuit prompted a safety car, and brought Raikkonen and Hamilton back into contention at the rear of the pack.
During the five laps the safety car was on track, Hamilton made two stops for tyres, taking on super-softs for one lap, and then back to another set of softs, the compound on which he had started, giving him free choice of rubber for the rest of the race.
Once the safety car was released, behind leader Rosberg a number of key players were out of position, with Vettel 15th, Ricciardo 17th, Raikkonen 19th and Hamilton 21st.
What followed was a stroll for Rosberg, while those behind attempted to work out the best strategy and tyres for any given part of the race, with positions changing constantly from second downwards.
Kvyat ran second to Rosberg for much of the race, with Vettel using a brief hard-charging stint on super-softs to make progress through the traffic and catch him again.
They swapped places immediately after the final stops, where Ferrari put Vettel on softs and he was able to quickly pounce on the medium-shod Red Bull.
At one stage prior to his fourth stop after 21 laps Hamilton was running third as others pitted, but two further stops followed - for a total of five - dropping him down the order on both occasions.
He came back through to push Felipe Massa's Williams for fourth, but was eventually passed by a flying Ricciardo and Raikkonen.
Ricciardo ultimately claimed fourth for the third successive race, with Raikkonen fifth, followed by Massa, Hamilton, Toro Rosso pair Max Verstappen and Carlos Sainz Jr, with Valtteri Bottas completing the top 10.
Despite the numerous incidents, all 22 cars completed the race, with Jolyon Palmer for Renault the last of those to see the chequered flag.