| | | |
| --- | --- | --- |
| | | |
Dear Betty MacDonald Fan Club,
I enjoyed Wolfgang Hampel's books, interviews and stories so much.
I have never had any neighbors like the Kettles: thank God.
I found ONIONS IN THE STEW completely by accident when I was in junior high school (about 1960). I saw the book in the autobiography section, and thought it was a cookbook that had been misfiled. I removed it from the shelf to inspect it and, while glancing through it, became so interested in the book's contents that I checked it out immediately.
As soon as I finished ONIONS IN THE STEW, I found Betty's other books and read them as well.
I was so disappointed that she wrote so few books. . .
I think ANYBODY CAN DO ANYTHING is probably my favorite.
What I liked most about Betty's books is her honest assessments of her life experiences and the humor she shows through adversity.
I can' t wait to read more.
Love,
Kathleen
Betty MacDonald loved in Germany

Axel Schappei The Vashon-Maury Island Beachcomber June 16, 1983

Go into any ordinary German bookstore and ask for former Islander, Betty MacDonald's paperbacks and you'll be handed - at least - three books: Die Insel und ich ( Onions in the Stew ), Das Ei und ich ( The egg and I ) Betty kann alles (Anybody can do anything).
Scholars in the Pegasus German courses on the Island may notice that the German titles of Betty MacDonald's famous autobiographical novels have been translated appropriatley.
Betty would like them. Betty MacDonald, who lived on Vashon Island, is tremendously popular in Germany. She once was one of the most well known and widely read novelists in the United States. But would you guess that more than two million paperbacks and hard-cover books of Betty MacDonald have been published and sold in Germany during the last 30 years?
Her bestseller The Egg and I reached about half a million in July 1981. From March 1964 until October 1980, 107000 copies of Anybody can do anything were sold in 12 editions. Onions in the Stew - her novel about living on the Rock - sold 103000 copies from May 1964 until September 1980, also in 12 editions. "She is incredibly successful, really, not only her novels. Her books for children like Nancy and Plum or the Mrs. Piggle-Wiggle-Stories still belong to the most successful childrens' books after all those years," says Wolfgang Hampel, who is so convinced about Betty MacDonald.
He simply loves Betty MacDonald and her books: "She's so homorous, her stories about everyday-life's and awkward situations are just incomparable. It's like a good friend taking you be the hand and leading through her life."
That's why Wolfgang Hampel and four other German Betty Fans plan to launch an extensive exhibition about Betty MacDonald, her life and her work.
Originally they wanted to open the exhibit on February 7, 1983, 25th anniversary of Betty MacDonald's death. But the five friends didn't manage to get enough exhibits together. "We're still looking for pictures, photographs, letters - in short all sorts of personal mementoes about Betty. Our exhibition has been planned for the last few years and we have written zillions of letters and bought hundreds of books, here in Germany, Europe and from the States," explains Wolfgang Hampel.They tried to get further information about their preferred author from American publishing companies. "Some didn't answer and others know less than we did already! It was like finding the different pieces of a jigsaw-puzzle without knowing what it will look like in the end."
Why all this activity?"We think that Betty MacDonald is such a fascinating person that many people here should know more about her . Apart from our endeavors to our exhibition together we've also been in contact with publishers to convince them that a new edition of Nancy and Plum would find its readers still today.
Betty MacDonald's readers come from all ages and social groups," says Wolfgang Hampel. Of course he and his friends know that Vashon is the Onions in the Stew Island and they also know that Vashon is part of the Pacific Northwest and - more specifically - of Puget Sound. So imagine their amusement when some publishing firms told them that Vashon is somewhere up to Alaska.
Actually, Wolfgang Hampel knows quiete a lot about the Rock, though he's never been here. All his information comes from Betty MacDonald's Onions in the Stew. So he's got the idea of the terrific view of Mount Rainier, and he also knows about her coyness.
Wolfgang Hampel has a pretty good impression about the house where Betty lived with her folks. "What we dearly need for our exhibition are pictures of the Island, books all sort of visuals to show people here in what a beautiful scenery Betty lived. So people can understand that she simply had to write books like that in such a fascinating rural enviroment.
Wolfgang would be grateful for any help he could get from the Island. "Really, the most substantial help came from Vashon so far. We got some great personal impressions about Betty from Islanders who knew her."Wolfgang is amazed about the friendliness and amount of help and encouragement that reached him from the Rock. Still it's a long way until the exhibition is ready.
Anyone with anything they'd like to send for the planned exhibition can write to Wolfgang Hampel.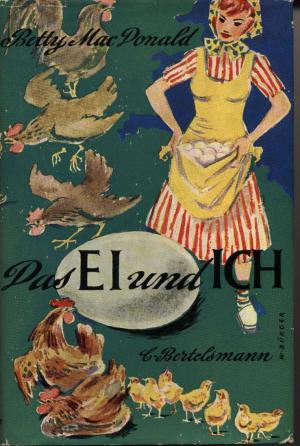 Vita Magica
Betty MacDonald fan club
Betty MacDonald forum
Wolfgang Hampel - Wikipedia ( English )
Wolfgang Hampel - Wikipedia ( English ) - The Egg and I
Wolfgang Hampel - Wikipedia ( German )
Wolfgang Hampel - LinkFang ( German )
Wolfgang Hampel - Memim ( English )
Vashon Island - Wikipedia ( German )
Wolfgang Hampel - Monica Sone - Wikipedia ( English )
Wolfgang Hampel - Ma and Pa Kettle - Wikipedia ( English )
Wolfgang Hampel - Ma and Pa Kettle - Wikipedia ( French )
Wolfgang Hampel - Mrs. Piggle-Wiggle - Wikipedia ( English)
Wolfgang Hampel in Florida State University
Betty MacDonald fan club founder Wolfgang Hampel
Betty MacDonald fan club interviews on CD/DVD
Betty MacDonald fan club items
Betty MacDonald fan club items - comments
Betty MacDonald fan club - The Stove and I
Betty MacDonald fan club groups
Betty MacDonald fan club organizer Linde Lund
Rita Knobel Ulrich - Islam in Germany - a very interesting ZDF ( 2nd German Television ) documentary with English subtitles
Far-Right Overtakes Angela Merkel's Bloc in Her Home State
BERLIN — Voters in Chancellor Angela Merkel's political home state delivered her a stinging rebuke on Sunday, propelling a far-right party to second place in the state legislature, ahead of her center-right bloc.
It is the first time in an election in modern Germany that a far-right party has overtaken Ms. Merkel's bloc of Christian Democrats and their Bavarian sister party, the Christian Social Union.
Official results released early Monday showed that Ms. Merkel's Christian Democrats had received 19 percent of the vote, against 21 percent for the far-right Alternative for Germany. The center-left Social Democrats, with whom Ms. Merkel governs nationally, got 31 percent in the state, Mecklenburg-Vorpommern, and are likely to continue their coalition there with Ms. Merkel's bloc.
The vote took place a year to the day after Ms. Merkel agreed with Austria that the two countries would admit thousands of mostly Syrian refugees then trapped in Hungary, with several hundred desperately marching on foot toward the West.
Speaking just 35 minutes after polls had closed, Peter Tauber, the general secretary of the Christian Democrats, said that the result was "bitter" and that all democratic parties had lost out to the Alternative for Germany. The new party, he said, has paid scant heed to the record of the current state government and instead "has made right-wing extremism something acceptable."
"It is clear that the good work of the previous government did not concern most voters," Mr. Tauber told a sparse crowd at the Berlin headquarters of Ms. Merkel's party. "Then a sizable number showed the desire to exercise their protest, especially in regards to national migration policies."
The chancellor, whose parliamentary constituency is in the state that voted on Sunday, was in China at a Group of 20 summit meeting and had no immediate comment.
The Alternative for Germany had already captured seats in three state legislatures this year, riding strongly on fears that refugees will siphon funds and attention from Germans and change the country's way of life. Its local and national leaders were jubilant after Sunday's results.
"That is a slap in the face for Ms. Merkel," Frauke Petry, the leader of the Alternative for Germany, told the public broadcaster ZDF. "That is a slap for the chancellor in her home state."
Fear of refugees is particularly pronounced in Germany's formerly Communist east, where there are far fewer refugees than in the country's west.
Initial analysis in poll research undertaken for the public service broadcaster ARD indicated that the far-right party had benefited heavily from people who had not voted in previous elections, and then in drawing votes from Ms. Merkel's conservatives. The research also showed that 75 percent of voters for the far right said they wanted to deliver a protest message to the mainstream political parties.
The turnout on Sunday was 10 percentage points higher than in the last state elections in 2011, when it was at a historic low of 51.1 percent.
One consolation for the mainstream was that the neo-Nazi National Democratic Party of Germany did not clear the 5 percent barrier required to win seats. The neo-Nazis had been in the state legislature for the past decade, winning 6 percent of the vote in 2011.
The national leader of the Social Democrats, Vice Chancellor Sigmar Gabriel, appeared relieved by his party's result, which, at 30 percent, would be at least eight percentage points above polls taken two months ago. He told supporters in Berlin that Sunday's showing proved that good politics and a steadfast fighting spirit could win elections.
Mr. Gabriel faces an uphill struggle to keep the center-left above 20 percent nationwide. Courting support in the past week, he criticized Ms. Merkel for admitting so many refugees and angered the United States by declaring important American-European trade talks a failure.
Yet Ms. Merkel is the leader with the biggest challenge after Sunday's vote, the first of five before the national elections.
In recent weeks, her conservatives emphasized the "homeland" and public safety — traditionally far-right themes — in the northeast and in the city-state of Berlin, which votes on Sept. 18.
Asked if it had been a mistake to try to stop the far right by embracing its themes, Mr. Tauber noted that voters had clearly shown fear of losing out in globalization and were worried for their future. "In elections, I really think you have to address the themes voters say are preoccupying them," he said.
Ms. Merkel defended her decision to abandon border controls a year ago and admit the refugees in a welcoming outburst that has since soured.
"On that weekend," she told the Bild newspaper on Saturday, "it was not about opening the border for everyone — it was about not shutting it to those who had made their way to us from Hungary, on foot and in great need of help."
Betty MacDonald fan club fans,

let's talk about great writers and poets Letizia Mancino, Hilde Domin and Betty MacDonald.

Betty MacDonald fan Club honor member, artist and writer Letizia Mancino shares her delightful story THE SECOND PARADISE.
Betty MacDonald fan club honor member Mary Holmes did such a great job in translating THE SECOND PARADISE.
Thanks a million dearest Mary.
We are really very grateful.

I'm one of Letizia Maninco's many devoted fans.

Letizia Mancino sent this connecting piece to " The Second Paradise".

DEFIANT AS A COCK

Copyright 2011/2016 by Letizia Mancino
translated by Mary Holmes

All rights reserved

That was how my friend Hilde Domin was, dear Betty! You would have liked her so much. She had also been in America. At that time you were a famous author but she was still unknown.

-Did she love cats like you do?

-Yes Betty, she sure did!! Otherwise how do you think she could have been a friend of mine?

-Oh Letizia, don't boast! Hilde was famous!

-It's all the same to me, Betty, whether a person is famous or not but that person must love animals

-Why was she as defiant as a cock?

-Well Betty, she was simply so!

-Like a pregnant woman in my "Egg and I"?

-No not so! Betty, Hilde was a whole farm!

- A farm, how was that?

- No Betty, Hilde was more! Almost a zoo! Even more. She was all the animals in the world!

-You loved her very much.

-As I love all animals.

You Betty, if I had known you, I would have loved you exactly so because you loved animals.

-But as defiant as a cock from my Bob-farm!

-Yes and no! (Hilde really loved this double form of answer). Listen Betty , I'll tell you a story about how Hilde was. You would certainly have loved her.
I'll call my story "The Second Paradise".

THE SECOND PARADISE

Copyright 2011/2016 by Letizia Mancino
translated by Mary Holmes

All rights reserved


The Lord God, one day, met Adam in Paradise and saw him lying under a palm.

And God spoke to him: Adam, my son, are you happy, are you content with Paradise ?

Adam answered: Oh Lord, it is wonderful!

And God said: But I will create a second Paradise and give you a wife.

Adam answered: Oh Lord, that is wonderful!

And God said: I will create the wife according to your wishes.

And Adam stood under the palm and thought hard.

And God said: Adam, are you ready?

Adam answered: My wife should be as lively as a bird but she should not fly. She should swim like a goldfish but not be a fish….. She should be as playful as a cat but not catch mice….. She should be as busy as an ant but not so small.

And God said: So shall she be: Like a bird, a goldfish, a cat, an ant…

Adam answered: Oh Lord, that is wonderful, but she should be as faithful as a dog.

And God asked: Adam, have you finished?

Oh Lord, cried Adam. She should also be as delightful and gentle as a lamb and as defiant as a cock!

….She should be as curious as a monkey and as pampered as a lapdog.

And God said: So shall she be.

And Adam said: My wife should be as courageous as a lion and as headstrong as a goat…

And God said: So, like a bird, a goldfish, a cat, an ant, a dog, a lamb, a cock, a monkey, a lapdog, a lion, a goat… and slowly and surely he wished to begin creating…

But Adam stretched himself under the palm and called:

Lord, Lord, she should be as adaptable as a chameleon but not creep on four feet.

She should have sparkling eyes like, like… real diamonds. She should be as fiery as a volcano

But … she should have crystal-clear thoughts like a mountain spring.

God, the Almighty, was speechless…

And Adam spoke: Also she should be as quick as lightening…

And God said: Man, have you finished????

No, said Adam! She should be as strong as a horse, as long living as an elephant but as light as a butterfly!

God found Adam's thoughts were good and said: So, bird, goldfish, cat, ant, dog, lamb, cock, monkey, lapdog, lion, goat, chameleon, genuine diamonds, volcano, mountain spring, lightening, horse, elephant…. butterfly…

God wished at last to begin creating her…

Lord, called Adam… she should be as stable as steel, but as sweet as three graceful women in one…

And God asked: Should she also be a poet?

Yes, called Adam from under the palm…

And God said: Adam have you finished?

Lord, I wish that, in the second Paradise I shall be one and doubled:

So God according to Adams last words created:

HILDE PALM DOMIN

Very best wishes


Letizia Mancino


Letizia Mancino is an outstanding writer and artist.

I know you will enjoy this very charming and witty story the same way I did!

We got so many requests from fans from all over the world and have great info for you.

Have a nice Wednesday,

Take care,

Marco